A happy team that can work in harmony will be far more productive and successful in the workplace. We don't need to refer you to the hundreds of studies to back this up, as it's just common sense, right?
But did you know that physical team building activities can take things to an entirely new level, as your employees and work colleagues learn to trust and work together to achieve something out of the ordinary?
Below you can see the best physical team building activities that will challenge, inspire, motivate, and lead to long-lasting positive results in the workplace (and possibly even raise some fitness levels!).
If it's action-packed adventure you want, our Outdoor Adrenaline multi-activity outdoor team building day is just the ticket.
Working in teams, groups will compete in a wide range of activities designed to stretch them both physically and mentally, plus helping to engender a great team work ethic.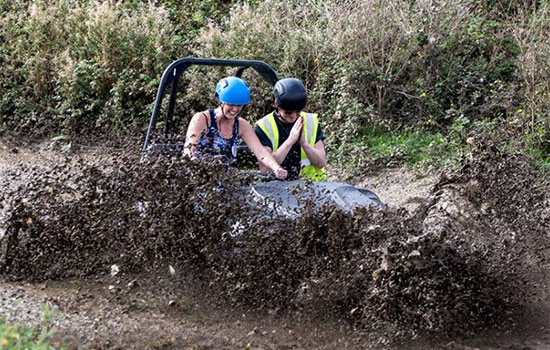 Tasks include archery, off road buggies, quad bikes, inflatable human table football, and rather randomly… duck herding.
This event offers pure fun, big impact and some serious toys.  If you want an experience that everyone will remember, then this is an event that will give you the WOW factor.
This is the ever so slightly slimmed down version of the previous team building day, including just the archery and duck herding elements.
Have you ever herded a duck? Probably not but believe us when we say it can get very physical and is one of the most challenging experiences you will ever face in life!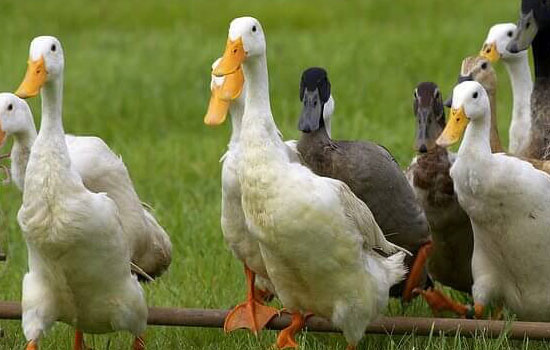 We let a lively bunch of ducks loose from a pen and your team have to guide them around an obstacle course with the help of a professional sheep dog. Can you be the next duck and dog whisperer?
With the archery challenge your team members will use traditional long bows to into various targets at ever increasing distances. Your team must achieve the required score to win. A real skill-based challenge which requires some physical effort.
You've probably already seen the TV show which inspired this particular physical team building activity, but do you think you're up to the challenge?
With hours of non-stop hilarity, this is one of our favourite corporate fun days, as it simply can't help but build morale and team spirit. Be prepared though, as you will all be absolutely exhausted come the end of day!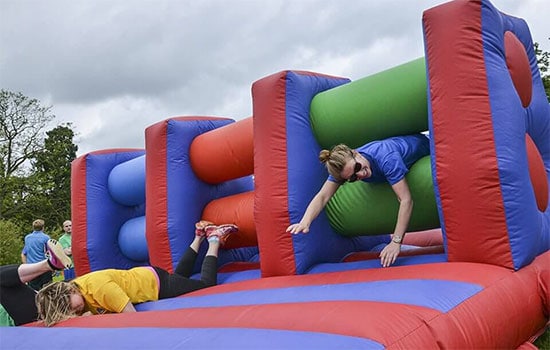 It's a quick-paced, high energy team challenge that comes with a host, up to 8 challenges, and the end of day medal ceremony and prize giving.
Totally Wiped Out is certainly not for the feint-hearted, so make sure you bring plenty of energy drinks with you!
Another TV-show inspired event is our Crystal Challenge team building day. It's one of our most popular team building days, and you can read some of amazing reviews we have already had from businesses and organisations on the event page.
Unfortunately we can't guarantee that Richard O'Brien will be there to oversee proceedings, but you will have one of our very own energetic presenters hosting the day.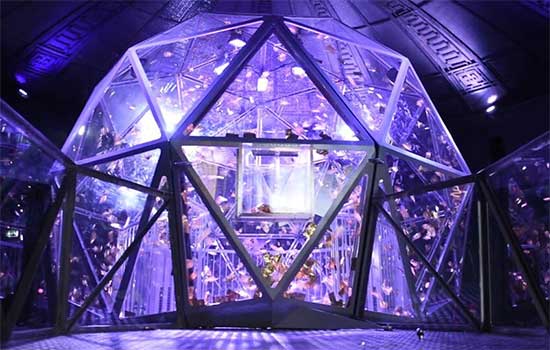 Employees and staff will face an exciting range of mental, skill, physical and mystery challenges including the famous Aztec, Medieval, Industrial and Futuristic zones.
We can run this team building day at an outdoor venue or take the all the gear indoors if the weather is going to be unreliable that day. Start the fans please…
You wanted physical? This is physical, very physical and offer big time outdoor inflatable fun complete with all the thrills and spills of the famous TV show.
Teams will be kitted out in crazy costumes as they aim to race through huge inflatables, increasingly slippery slides, wacky relay races and enough foam to fill an Olympic swimming pool.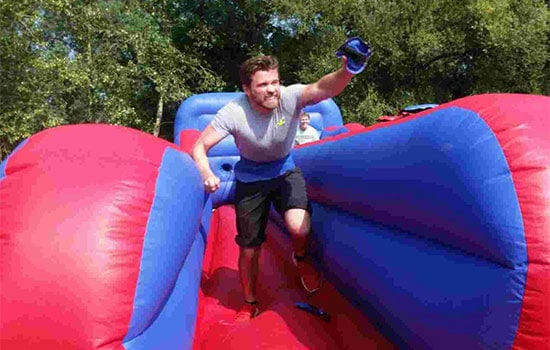 It's not every day you get the chance to see the boss dressed as a fairy racing a giant chicken!
And unlike the famous TV show from the 1970s, our gear isn't old and outdated. It's constantly updated, so this is the newest, brightest and funniest "It's a Knock Out" on the market.
If you thought the last suggestion was going to be the most physical team building activity on this list, then think again.
Remember the TV show from the 1990s called The Gladiators? If you do, then you will know what to expect from this particular corporate team building event.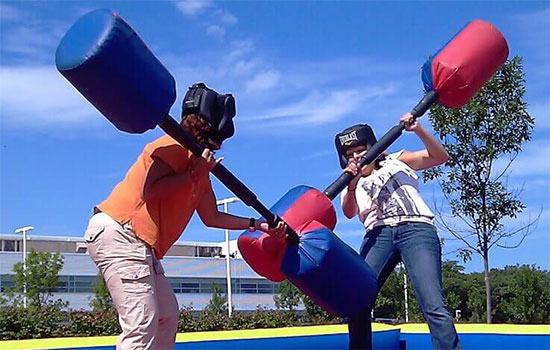 Loosely based on the popular TV show, but with a twist. Participants become gladiators or contenders and compete in a series of fast and furious team challenges.
Teams will tackle a number of activities including giant inflatables, obstacles and huge puzzles will put their team work skills to the test. If you're looking for a fun team building event that's totally unique, The Gladiator is the activity for you.
This is one of the newer team building days we have added to our roster, and has quickly become one of the most requested events we offer.
Brand new is our Escape Rooms challenge.  In teams groups will enter a series of completely unique themed rooms, where they have a set time to solve the challenges and ultimately escape the room.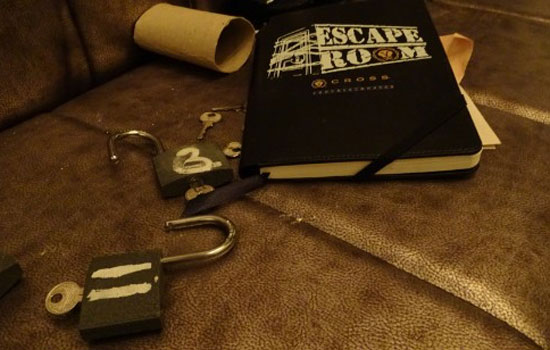 Each room has its own unique style.  There are guidelines but no instructions.  It's purely down to your team's innovation to look around them and crack the interconnecting challenges, conundrums, riddles and clues.
There are 4 available Escape Rooms to choose from; The Science Lab, Great Escape, Prison Break, and The Island.
Do you fancy yourself as a Penelope Pit Stop or perhaps the cunning Dick Dastardly? Or perhaps you just want to be yourself?
Whoever you choose, this activity will blow your mind as your daredevil group of daffy drivers to ever whirl their wheels in the Wacky Racers race, competing for the title of world's wackiest racer!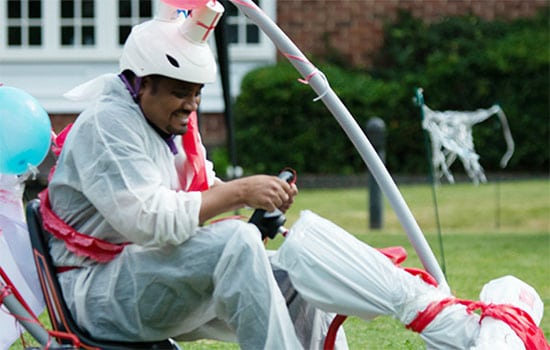 As a team you must come together to form all parts of an effective racing team including team work, communication, time management, delegation, planning and of course making it matter in your final race.
We offer 4 different themed race tracks, professional go-karts, a medal ceremony, plus our lively host and referee for the day.
Relive your school days, with our school sports day themed team building event. There will be an event for everyone, not matter what their physical ability. But the onus is definitely on fun and participation with this one.
All of the games and event ideas during the day are exactly how you remember – just without the grumpy teachers and the school bully.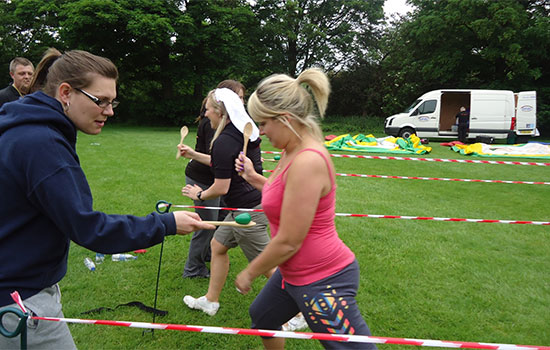 This is your chance to take part in some competitive sporting activities with the aim of winning medals, prizes and pride. Our company sports day team building event will be something that your colleagues will always remember.
And don't forget to bring your PE kit, otherwise you might have to do it in your pants!
Our last physical themed event is the popular Qube team building day.
Complete with The Host, The Voice and The Body, with game show lighting and a 3m x 3m Inflatable Cube, contestants work in teams to face a series of nail-biting challenges.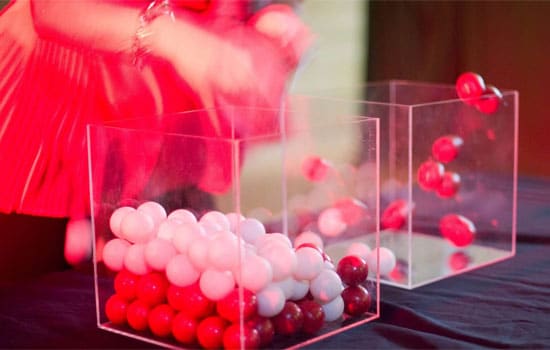 There are head to head team Qube Challenges where teams can win entry to the Qube for nominated members of their team and win all important Aides; Swap a contestant, Pass, Simplify, or take a Trial Run, but use these wisely.
Do you have the nerve, determination and skill it takes to complete the tasks within the Qube?
Want to know more?
We hope you find something here from our selection of physical fitness team building activities. If you would like to find out more or speak with an expert team building specialist, please contact us.
Alternatively, you can browse for more ideas from our large roster by viewing all events and ideas.