Team building is a variety of challenges used to enhance working relationships and establish roles within the work place. It is a great way of thanking the staff for their hard work and having some fun out of the office. The majority of companies usually organise some kind of team building based activity annually, it brings everyone together for example new recruits and a change of job roles and promotions. But why is it important in the workplace?
Team building is very important in the workplace to help with morale and the success of a business. With the main goals of any business being to improve the future of your company, increase productivity and motivation it is absolutely essential; and in some cases can be a great treat or a thank you to your hard-working staff.
We are at work for the majority of our time, so it is important to feel valued and get along with our fellow work colleagues. Team building activities improve office bonds and team work which make way for fresh motivation to reach goals – click here to see over 100 team building event ideas.
Team building helps to define team members strengths and weaknesses in certain situations.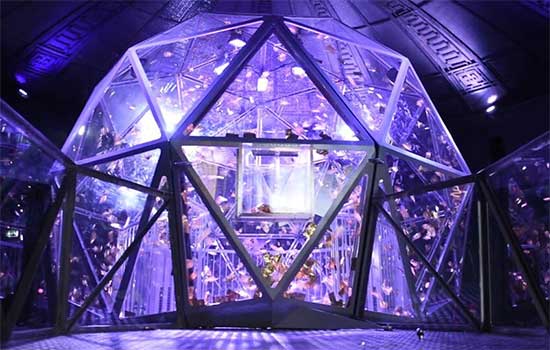 It will show you who will flourish under pressure and also give some of the quieter characters a chance to come out of their shell and take the intuitive.
All levels of the company work together, helping each other to reach the end result.
In doing so employees feel a sense of equality which shows they are respected.
The key is to promote strong trustworthy relationships in the work place and show the team they are appreciated to tackle what is to come for the forth coming year ahead.
7 reasons why team building is important in the workplace
Here are our 7 best reasons on why team building is important in the workplace.
#1: THE BENEFITS OF TEAM BUILDING
The main benefit of team building is to boost productivity within the work force and to give the team a fresh abundance of motivation to tackle goals and targets for the year ahead.
#2: THE MAIN PURPOSE OF TEAM BUILDING
The main purpose of team building is to have fun! Team building brings everyone together in a relaxed fun setting.
#3: THE IMPORTANCE OF WORKING TOGETHER
It is vital that everyone gets along for a successful business so that everyone is on the same team working together to reach the same goals.
#4: SHOWING STRENGHS AND WEAKNESSES
Team building can prompt creativity which helps to define strengths and weaknesses in certain situations
#5: TO BOOST COMMUNICATION
During team building events everyone can let their hair down. Out of the office can be where some great ideas for the business can be produced. Mixing all levels of the business can see some employees feel comfortable in putting great ideas forward in a relaxed environment.
#6: FEELING VALUED
It's great we feel respected and valued at work. It gives a sense of wellbeing and shows that our hard work isn't going un-noticed.  Team building shows reward and respect through all aspects of the work force and sees general productivity increased.
#7: STRIVING FOR A SUCCESSFUL BUSINESS
Through team building the objective is to make a more successful business. It creates strong bonds and trustworthy relationships. When you have that feeling you feel you can take on any tasks and challenges that are presented.
When team building is needed the workplace
If you feel your team aren't performing as a team or morale is low team building will help improve that.
Lots of underlying things happen in the work place that can strain relationships, you will find big egos and maybe some people feeling undervalued and not part of the team so having something to bring everyone together can put certain things to rest.
More than two thirds of people that undertook a study by the University of Phoenix said they feel part of a dysfunctional team resulting in a vast majority preferring to work alone rather than part of a team.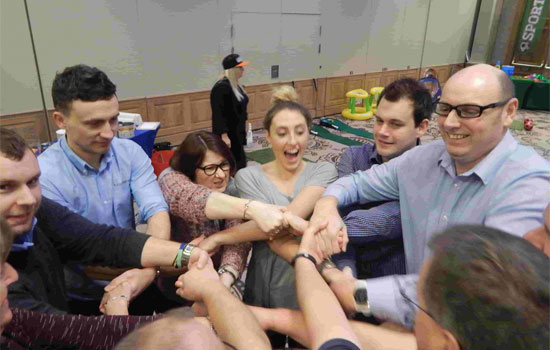 A team is usually made up of a variety of personalities and more than not all get along which result in to a lot of clashing in the working environment. That can then become frustrating not just for the people involved but also for colleagues around. Targets can be harder to reach and not become as important, some members will be bogged down by this and will not be giving 100% which could result in more serious actions such a disciplinary action and even in some cases loss of employment/walk outs.
Bad feeling in the work place can also create withdrawal and in some cases depression which can cause disengagement, some dread going into work which lead to extreme stress and pressure on the heart and increased blood pressure. In many cases employees have fought hard to get the jobs they are in now so to walk into an office with bad feeling or previous tension can have a very negative impact.
Further studies show that according to a group of journalists reporting as a small group for a local paper investigated over a hundred studies from the second half of the last century "Does team building work?" gained the knowledge that team building does show a positive outcome.
Choosing the right team building event can have an unmistakable perfect impact for all involved, the aim isn't to make anyone feel awkward or uncomfortable but just to reunite everyone as a team and bring the focus back to what's really important – company morale!
How to choose the most suitable event for you!
The best way to choose the right event is to have a clear objective in mind, what you want from it, how you want your team to work together, what challenges you want to be resolved etc, let's face it having a first class completely unique team building event isn't going to be cheap, so you don't want to fork out a load of money for a rubbish day!
It's a great idea to maybe throw it out to the team, get a selection of amazing events and have a vote to see what ones the most popular, that way you are engaging with everyone and giving some responsibility which will get off to a great start and build up some excitement.
It will be the talk of the work place and automatically bring people together and spark some healthy competition – competition that will reignite the love of the job and a reminder of why we choose to do what we do daily.
Team building is a great way of also re-educating certain behaviours and prompting discussions and ideas to continue back in the work place. Generally, team building creates more open minded thinking and acceptance of other people and their qualities, which bonds together once rocky relationships.
We are Goto Events 
Here at Goto Events we are a very successful team building event company. We have seen over the last 24 months a huge need in the corporate industry for these kind of events and they are getting more and more popular.
It started out with some of the bigger brands and companies  using team building in their work places and the sheer success and fun factor spread like wild fire and now become popular in some of the smaller companies.
With every event tailor made to suit the individuals needs we can create a bespoke event with the clients objectives in mind. With over a 100 different types of events to offer we are doing over 700 per year and that is rapidly growing all the time.
Our feedback and reviews are second to none and the majority of a cliental are repeat bookings. We work directly with the client and also through agencies to offer what they cant. We have games and events to suit all, indoors, outdoors, themed events.
We do events all over the UK and further afield if needed – nothing is too much trouble for Goto!
The format of a Goto Events team building day
A lot of work goes into making a successful experience for all involved. Lots of work behind the scenes including liaising with the venue and venue staff , making sure we have the right space and access. Event managers make sure a carefully thought out and planned format is in place so timings can get the most out of all the tasks.
The client's experience is paramount, we take care of all the finer details so that the client has a worry free day to really enjoy the event with the rest of their team. Usually when we arrive at the venue the event manager will locate the client responsible for the booking and introduce ourselves, we will check that numbers haven't changed and confirm the procedure for the day.
It's important to have a really friendly approachable personality. The event manager will share out duties to the event staff and let them know what is expected from them, that way everyone is clear on their job for the day.
Once you have set up for the event and all participants are ready to get going we usually start with a fun ice breaker  –  it alleviates initial fear, nerves and the general stigma of the unknown of a team building event.
In most cases team building events are usually a mixture of departments that don't mix and randomly put on teams with other employees they don't know or have ever met. This can spark nerves and in some cases make some feel uncomfortable and totally out of their comfort zone so it's a great way of a brief "getting to know each other".
By now the energy will be in full swing and everyone will be laughing and happy ,starting to get excited of what's to come. The event manager overseas the whole event and is there to make sure it runs smoothly and everyone is having a great time!
The event manager will explain the format to everyone and let everyone know what they are playing for points/prizes. This arouses group discussion and prompts some healthy competition, the event will then commence.
The event manager's duties are to make sure all the event staff are at their stations and interacting with the clients. The event staff are carefully selected through a strict interview stage as they have to be professional but fun and bubbly characters.
Throughout the event the event staff will need to keep checking everything is running to plan and that the clients all know what they are doing, trying to make sure everyone is having a turn and getting involved. Knowing that the event staff are around gives the more relaxed participants a little confidence to get involved.
With the help of the event staff and the clients the atmosphere is electric. The team building is underway and everyone is working through the challenges they are set in order to win!
Usually the games/tasks that have been choses are for a certain objective – to either bring the team together, to show weaknesses and strengths or to welcome new starters.
You find that with that in mind the tasks that have been selected get everyone involved, that includes all ages and abilities.
Once the event is coming to an end the event manager will facilitate an "awards" type assembly and with the aid of the event staff usually hand out prizes and medals, we have a bit of fun with the clients and let them know the winners and losers – that leads way for some healthy banter and competition back at the office.
We will end with a de-brief thanking the client for taking part and selecting the selected company.
This leaves a nice personable memory with the client and makes them feel appreciated and important and its just generally a nice way to end the time that has been had by all.
All event staff will then pack down still taking into consideration the clients around whether they are leaving the venue or still chatting amongst themselves about the event and fun they have just had. The event manager will then thank the venue for their help and cooperation.
Want to know more?
Now we've helped to explain why team building is important in the workplace, why not let us help you plan your next day, event or activity? With over 100 different themed event to choose from, our planners can tailor something that will let your team feel the benefit of how this could work for your business.
Get in touch with an event planner now (contact us here), and we could turn a quote around for you in under 45 minutes.