Effective leadership doesn't come naturally to everyone, but those core work skills can be improved. We also believe that even the best leaders need a refresher from time to time, and one way you can do that is with effective leadership and executive team building activities.
We're one of the UK's leading team building companies, and we've seen hundreds of leaders and executives benefit from our structured and fun activities.
With our help, they all saw improvements in:
Communication skills
Motivation skills
Positivity
Responsibility
And leadership skills for managing their team
It's not just for business leaders…
It's not just the leaders in your business that will benefit though.
All employees and large groups can benefit from leadership and team building work. With our events you'll be able to gauge the communication and problem-solving skills of staff, and test for various other qualities, including creativity and resilience.
Here's just a handful of leadership team building games and activities you might want to consider, all of which you can arrange via our specialist event planners.
As far as leadership and team building activities go, this always gets voted and reviewed as one of the best events we currently offer.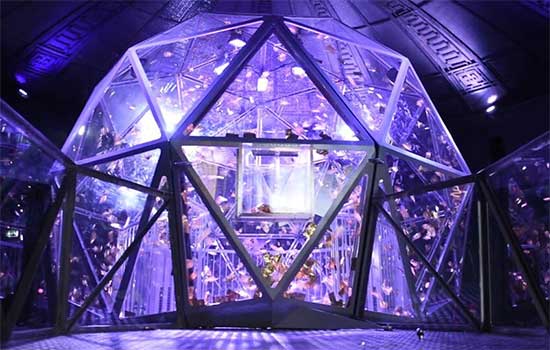 You will probably already remember the famous TV show from the 1990s, or even the more recent re-make. It's a best-selling executive team building activity that simply has to be seen to be believed.
You and your co-workers will take part in increasingly dramatic tasks and challenges, competing in teams across the Aztec, Medieval, Industrial and Futuristic zones.
Trade your way up to become the ultimate city slickers where buying, selling, trading… and ultimately making loads of cash is the aim of the game!

Team will buy and sell shares at the most opportune moments in order to reap the highest financial benefit possible, with participants needing to lead and manage effectively.
If you have seen the Wolves of Wall Street movie you might have a slight inkling into how much fun and engaging this is going to be!
No list of the best leadership team building games would be complete without a Dragon's Den inspired activity.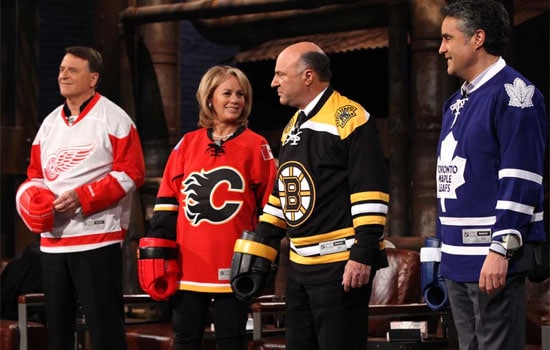 Each team has to come up with their own idea to pitch to a panel of Dragons in order to see who will win the much-needed investment.
It's a fantastic indoor team building game that will test brains and creativity, with staff needing to work on leading a pitch, planning, research, budgeting, and marketing techniques. 
Based on the popular TV show, this idea is designed to bring out the very best in staff leadership skills – and hopefully more so than the hapless contestants so often featured on TV!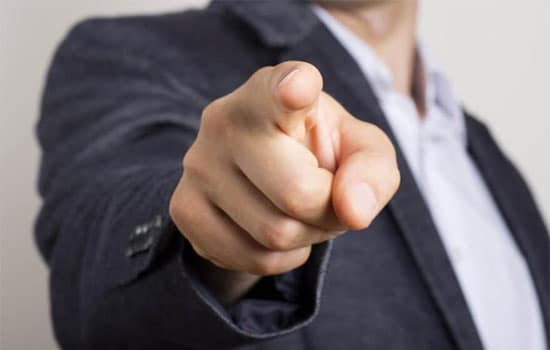 During the day your team will be set fun and challenging tasks, with the winning team receiving a fun prize, and the losers being fired… Alan Sugar style!
It's a superb way to test executive team and leadership work in a fun and unique environment.
This event always ranks highly in our leadership team building activities, and it's no surprise why!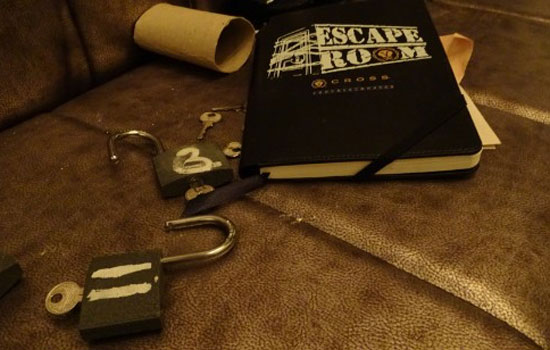 Staff are locked into a series of completely unique themed rooms to battle against the clock to escape. Will a leader emerge from the captives?
It's a fully-mobile activity where staff have to work together to crack codes, perform experiments, and complete a wide range of challenging and fun tasks whilst the adrenalin pumps.
Fancy yourself as a crime scene investigator leading a team of staff to solve increasingly complex clues?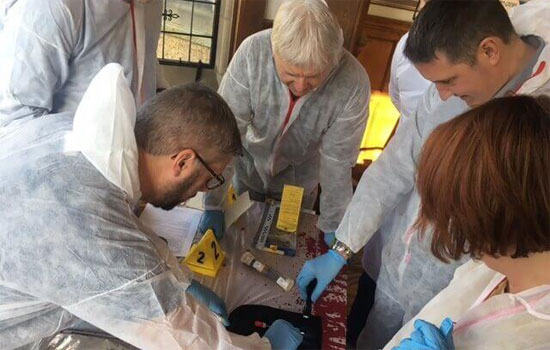 Teams of employees are split up into CSI teams and made to investigate motives behind the crime, find out who was murdered, and then put the evidence together to catch the culprit.
With this indoor team building idea, all team members are kitted out with a full CSI kit including white body suits, masks, and gloves.
If you are looking for something more varied, our Challenge 100 package comes with more than one hundred creative indoor team building games.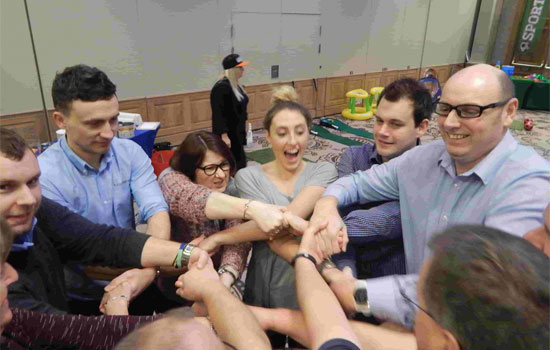 All games are split into five different categories including sports, creative, sensory, child's play, and brain busters.
Come the end of the day, your employees will have accumulated points on the scoreboard to see which team wins!
This event lets you and your team to lose themselves inside the classic board game – but at a HUGE size!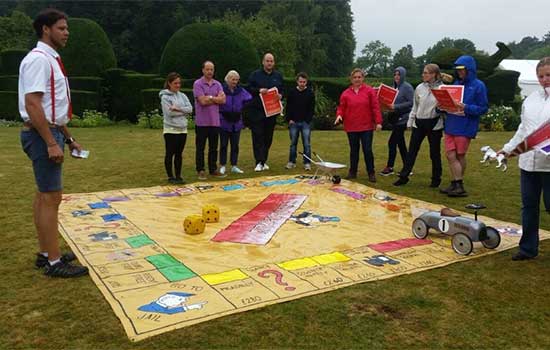 Hosted by our very own Mr. Monopoly, this super-sized team building edition of the legendary board-game is designed to keep your office entertained for weeks beyond the event!
Divided into teams of giant irons, wheelbarrows, ships and boots, your group will have 90 minutes to not only dominate the board, but navigate through Mr. Monopoly's eclectic mix of team building challenges, all of which are designed to empty your pockets of Monopoly change!
This team building activity is where real leaders will emerge, take charge, and manage a team through a series of tasks.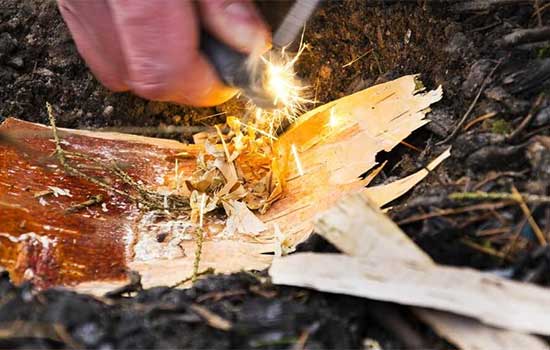 It's not just about leadership team building though.
This activity will also help to develop a strong team identity, and all whilst having fun. Your staff will develop trust and improve communications with real transferable skills
Combining the best bits of our popular treasure hunt, team building challenges and a murder mystery, guests involve themselves in the ultimate who dunnit event!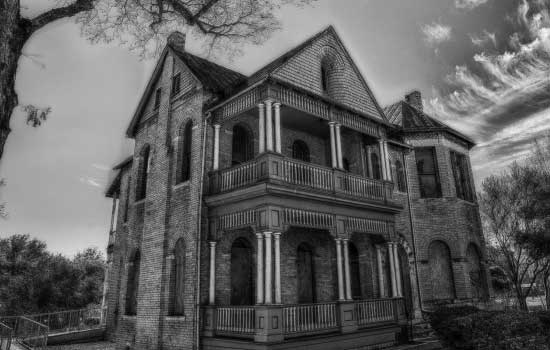 This interactive murder mystery event combines a super sleuth evidence hunt, photo mission plus fantastic physical and mental mini teambuilding challenges, to earn yourselves additional clues.
We often see even the most timid of employees start to exhibit leadership skills they never thought that they had before with this activity.
A team building activity that works very well with smaller groups looking to improve their leadership skills is our Masterpiece Challenge.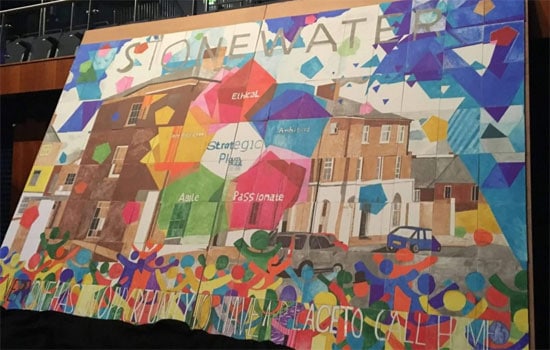 Your team will have to create their own giant version of a famous painting whilst completing mini challenges along the way. 
At the end of the day each team will add their newly created canvas up to the other team's masterpieces in order to create the final result.
Need More Inspiration?
This is just our top 11 currently recommended leadership team building activities. But it's just a small selection, as we have even more ideas that you can browse and explore on our website.
To see all team building activities and ideas, head on over to our team building events page where you can view over 30 additional idea to choose from.
If you see something you like and would like to talk with a specialist team building planner, please contact us today for a quick no-obligation chat.